18 Nov
The holidays are closer, it's time to pack up. However, don't forget to bring skin care equipment, so that the trip remains comfortable and the skin remains healthy and well-maintained. This skincare equipment is important especially considering the unpredictable weather, for example scorching heat, or humid cold, as well as pollution and dirt that can make skin dull, dry or cause acne to appear.
To avoid that from happening, you need to bring some skincare products during the holidays. Anything?
Skincare Equipment that Must Be Bring While on Vacation
1.
Facial Cleansing Products
Skin care products that you must carry when on vacation are facial cleansing products such as face wash and makeup remover. Cleaning your face is something you must do to keep your skin clean and well-groomed.
Especially for those of you who like to use makeup during the holidays to keep your appearance on point. Therefore, make sure you bring facial cleansing products while on vacation to keep your skin free from various skin problems during the holidays, such as dull skin to acne.
2.
Sunscreen


Sunscreen is an item that should not be missed. Not only during holidays, sunscreen is also mandatory for daily use. In hot or cold weather, you still have to use sunscreen to protect your skin. Choose a sunscreen with at least SPF 30 and use it 15 minutes before going outside.
3.
Moisturizer
This beauty item should not be missed, because wherever you are, on vacation to hot or cold areas, moisturizer is a skin care product that you must carry. Moisturizer keeps your skin moisturised. Use moisturizer at least twice a day, after bathing and before going to bed, to keep skin moisturized and nourished.
99% Primaeval Fresh Bamboo Soothing Gel, can be an option for your daily moisturizer while on vacation. Water based and contains 99% Bamboo Root which is very useful for soothing the skin from sunburn, or exposed to other hot objects.
In addition, this gel also contains Green Tea, Sea Buckthorn, Centella Asiatica and Broccoli which are rich in antioxidants, vitamins A, E and C, as well as Omega 3, 6, 7, and 9 Fatty Acids which are useful for maintaining skin moisture and strengthening the skin barrier. Because it is water-based so it is light on the skin, making this gel suitable for all skin types, including sensitive skin types.
4.
Lip Balm
Not only do you need to keep your facial skin moist, you also need to pay attention to the moisture of your lips. Choose a lip balm that contains SPF so that your lips are protected from the dangers of UV rays. Tips, lip balm can also be used to moisturize elbows and knees if needed. Practically not!
5.
Oil Paper
This product is very important for those of you who have an oily face. Oil paper is used to absorb excess oil on the face.
6.
Face Mist
The makeup kit for the holidays that you need to bring next is a face mist. This beauty item is useful for providing freshness and moisturizing the face after a day of outdoor activities. How to use it is easy, just spray, the face will immediately be refreshed.
You can use this First Drop Mist, which is mainly made of 50% Glacial Water, which is pure Mineral Water from the Ice Glacier in Canada. Glacial Water contains many minerals that are very beneficial for the skin and has a very high oxygen content. In addition, First Drop Mist also contains other ingredients such as Schisandra Chinensis Lignans, Locorice Roots, Ginger Extract and Green Tea which are useful for rejuvenating and revitalizing your beautiful skin. The texture is light so it is easily accepted by all skin types.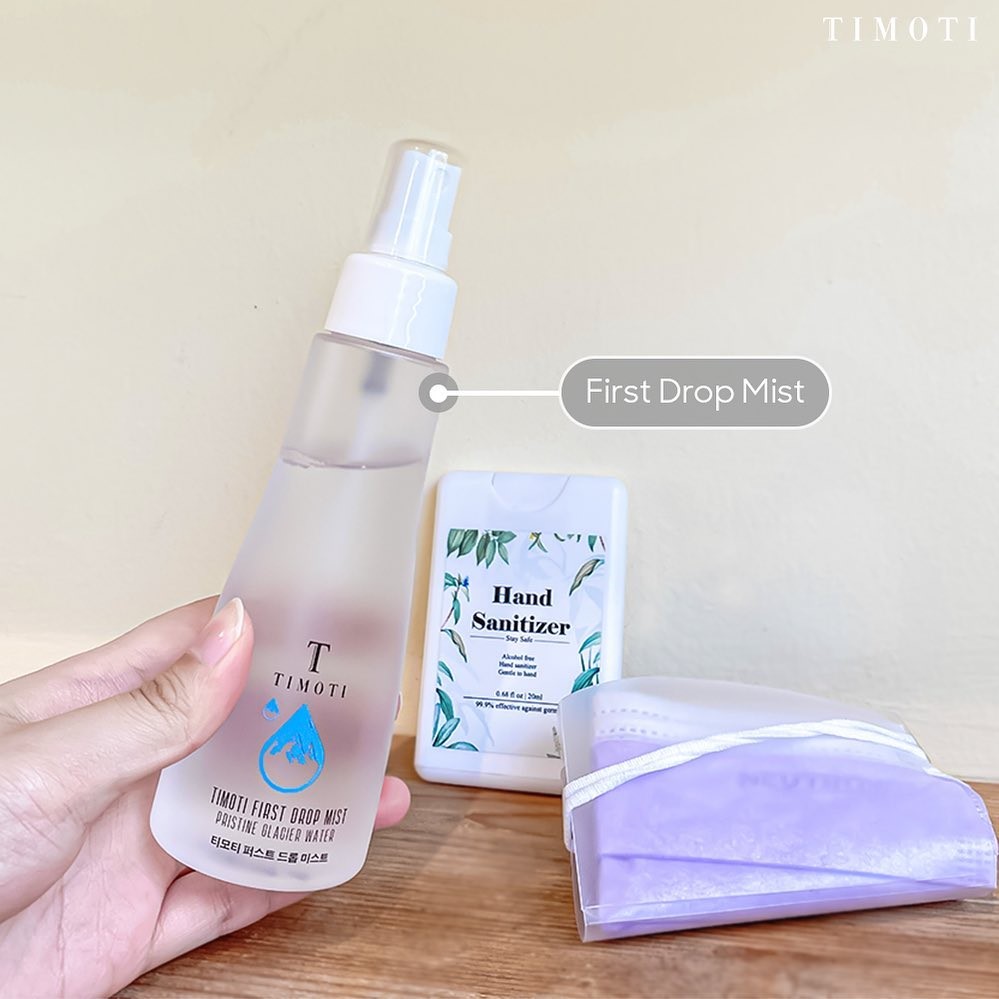 7.
Sheet Mask


When you go on vacation, your skin can look dull and tired. To refresh your skin, put a sheet mask in your skin care stage. Sheet masks are useful for brightening and giving freshness to facial skin. You can use a sheet mask at night after a tired day of activities.
Varuza Real Natural Sheet Mask With Blue Ampoule
· SUPERMARINE COMPLEX – Purifying, formulated from nourishing marine elements. (Laminaria Japonica Extract, Fucus Vesiculosus Extract, Jania Rubens Extract)
· UNBLEACHED AND NO CHEMICAL ADDITIONALS - Our Mask Sheets do not contain chemical additives such as bleaching agents, or fluorescent substances. Feel safe when using.
· 100% NATURAL COTTON – Because we use natural cotton itself without any dyes, it has natural brown spots of cottonseed on the pads.
In addition to the seven skincare products that have been mentioned, you also need to bring skin care products that you routinely use morning and night. To minimize the accumulation of luggage, you can transfer the contents of your skincare to a travel size bottle or buy skin care products with a smaller and more practical size. This can save space in your suitcase and reduce the burden of your luggage.
So that's the skincare equipment that you must bring when you want to travel for a few days. But if you only go traveling for a day, you just need to bring some skincare, such as, Sunscreen, Face mist, Oil paper and Lip Balm.
Hopefully this information is useful for all of you, let's start choosing the tourist destinations you want to visit, and if possible don't be too far from where you live, because right now we are still in the Pandemic period, so we still have to maintain health and follow Health protocols.